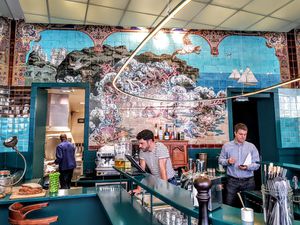 7.8 Salina, 24, rue du Faubourg Montmartre in the 9th, 09.83.97.50.31 (Metro: Le Peletier), closed Sundays and Mondays is located in a former fish store that preserved the original tiles, photos of which I've stolen because I left my camera home. It doesn't take reservations but they reassured my friends who live nearby, they could accommodate us.  And indeed, they did, and plus!  My friends entered early and the incredibly nice waitguy replaced my stool with a lower chair with a back and I was happy as a clam.
Speaking of which, this is a simple seafood joint, just very very good seafood.  Don't expect more. But it's very very good.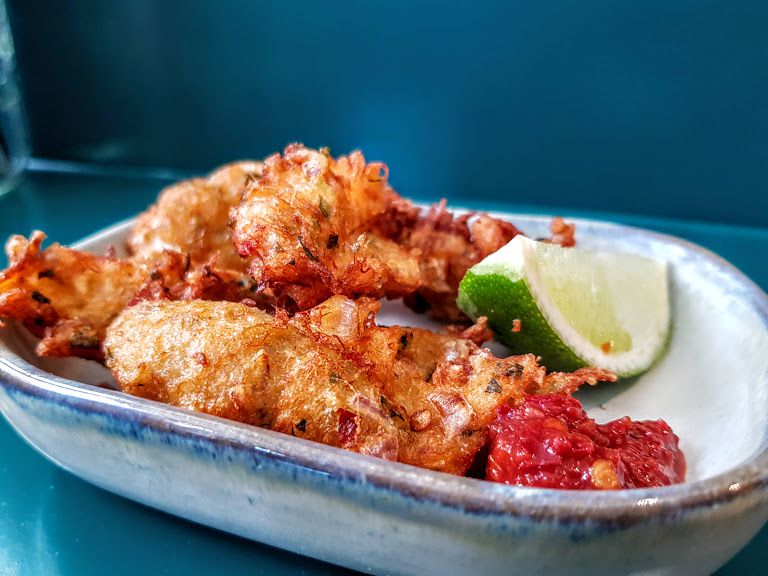 The three of us started off with three oysters each, very very good.  Then my friends had very very good mussels with frites and I had the fried accras de morue with an incredible more than very very good spicy sauce.  At this point, we were more than happy, but the chef, ex Boulud in NYC, sent out a portion of very very good Valrona chocolate dessert and we were very very happy.
Our bill for three, was 117€, thus 78€ for a couple and that included 2.5 bottles of wine and a coffee.
Go?  You bet!  With Joysters around the nabe, and Salina, you've got simple seafood food in abundance.